Spice Tiffin Gift Set - Free Shipping!
$65.00!
$0.00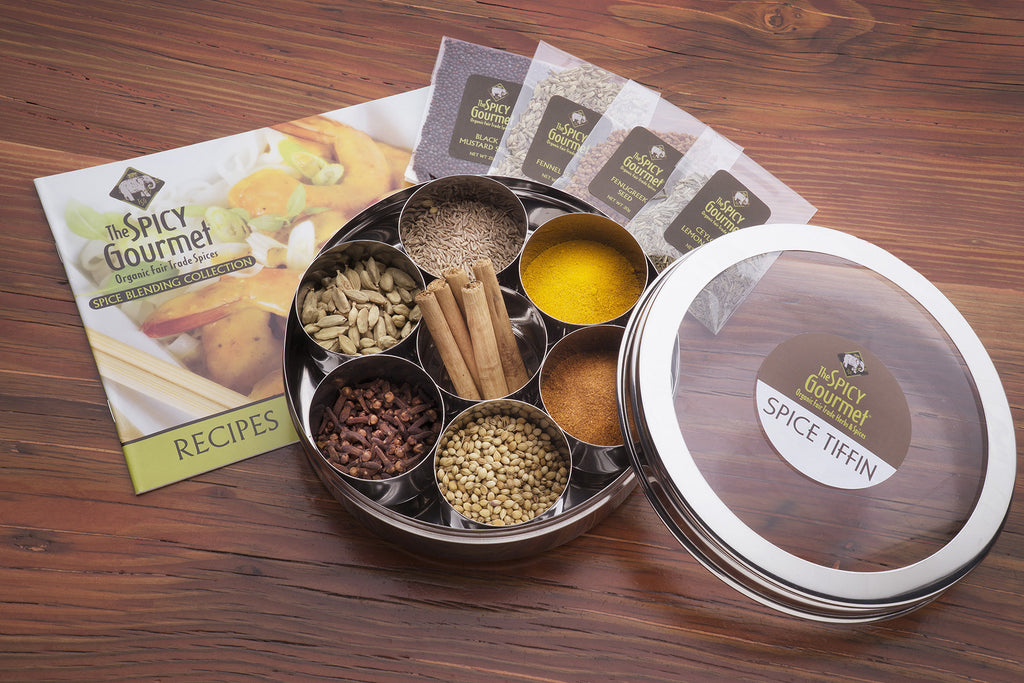 The Spicy Gourmet Spice Tiffin Gift Set is the perfect gift for the spice and herb lover in your life. Also called a masala dabba, a spice tiffin can be found in nearly every home throughout India.
Measuring 2 ¼" high and 7" in diameter, the Spicy Gourmet Spice Tiffin Gift Set is ingenious in its simplicity. Each attractive stackable tiffin contains seven FDA-approved food-grade stainless steel tins to safely and conveniently store the spices until ready to use.  Also included are seven full-size spice packets and four sample packets of our most popular organic spices along with a spice spoon and easy-to-follow recipe book. To keep the spices fresh, a silica gel packet is included in every tiffin.
The Spice Tiffin Gift Set does not include The Spicy Gourmet Electric Spice Mill.
Includes:
Cumin – 2 oz
Coriander – 1 oz
Crushed Chilis – 0.5 oz
Cloves – 1 oz
Cinnamon Powder – 1 oz
Cayenne – 1.5 oz
Turmeric – 1.5 oz
Black Mustard Seed – Sample
Fennel Seed – Sample
Fenugreek – Sample
T-Cut Lemongrass – Sample
Recipe Book
---